Sweet Deals on 2017 T-Shirts and Hoodies at the Gear Box!

WEEDSPORT, NY (September 22, 2017) – Weedsport Speedway's merchandise and apparel center, known as the Gear Box, has special discounted items available for purchase both in store and online.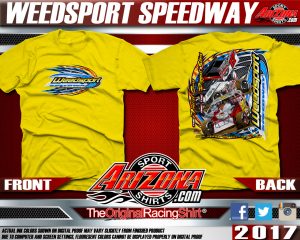 Currently 2017 t-shirts are available at the special rate of two for $40 with 2017 hoodie specials marked at two for $60.  This is a savings of $10 when purchasing two pieces.
Be sure to visit the Gear Box online by clicking the Store tab in the upper right hand corner of www.weedsportspeedway.com to get your hands on this limited apparel while supplies last.
The Gear Box will be open on site for Weedsport Speedway's remaining events including the Super DIRT Week Kickoff presented by Ferris Mowers on October 4 as well as the return of the World of Outlaws Craftsman Sprint Car Series on October 15 and the 5th annual Racer's Swap Meet on October 28.
It's never too early to start shopping for the holidays, so stop inside the Gear Box and start stuffing those holiday stockings.
Pit gates will open at 4 p.m. for the October 4 Super DIRT Week Kickoff with grandstand gates opening at 5 p.m.  Qualifying will hit the Speedway at 6:40 p.m. with opening ceremonies set for 7 p.m. featuring the DIRTcar 358-Modified Series and the DIRTcar Sportsman Series.
General admission seating is available on October 4 for $25, with reserved seating set at $29.  Students 17 & under will be admitted for $10 with kids 10 and under FREE.  Pit admission is $30 for members and $35 for non-members.
Purchase tickets today at www.weedsportspeedway.com or by calling (315) 834-3067.
For more information on Weedsport Speedway be sure to visit online at www.weedsportspeedway.com.  Fans can also FOLLOW on Twitter @WeedsportSpdwy and LIKE on Facebook at www.facebook.com/weedsportspeedway.
About Weedsport Speedway: Purchased in 2013 by Al Heinke, Weedsport Speedway has returned to a real racers track, providing a complete venue for racers, their families and friends, and for the fans looking for motorsports entertainment.  Officially opened for the first time on July 24, 1955 – the Weedsport Speedway 3/8 mile dirt oval has produced a legendary list of drivers and champions including Will Cagle, Danny Johnson, Bob McCreadie, Alan Johnson, Jack Johnson, and Dave Lape to name a few.  Today the facility welcomes the best of the best in dirt short track racing from the Craftsman World of Outlaws Sprint Car Series to the Super DIRTcar Series Big Block Modifieds along with the DIRTcar 358-Modifieds, Sportsman, Pro Stocks, and more.  While racing entertainment is the focal point, Weedsport Speedway has gone the extra mile in welcoming Weedsport Productions, which brings the facility full circle with a dedicated digital entertainment team for web, television, and on site screen usage.